Tattoo Masters Flash Book Collection Part 1 - Edition Reuss
SKU BK-TMFC1
In Stock
€69.99
€69.99
€49.99
€49.99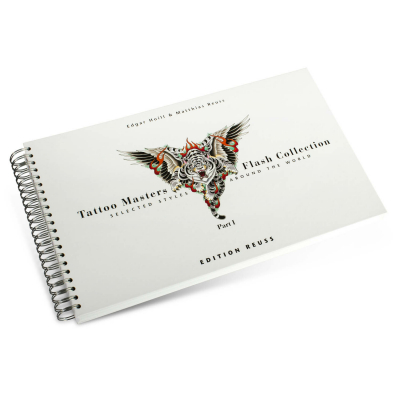 TATTOO MASTERS FLASH COLLECTION PART 1 begins with with a fascinatingly written foreword to the development of tattoo-flash, followed by a detailed interview with tattoo legend Don Ed Hardy, who, besides lending his own flash-sheets from his personal archive, provided rarities from the pioneer days of tattooing. Those sheets include flash by "Sailor" Jerry Collins, Owen Jensen, Joe Lieber and "Pop" Eddy and Bert Grimm, amongst the most famous tattooists of the early 20th century. The extensive collection of flash that follows is unique! The illustrations and drawings have been made exclusively for this collection, and have been produced by contemporary tattoo artists who rank among the best in the world. Every artist presents his work in his own style. This explosion of fanciful crossover flash styles will make the any tattooist's heart beat faster.
TATTOO MASTERS FLASH COLLECTION PART I offers works by Horioshi III, Don Ed Hardy, Gau Bin, Jondix , Will Tatuwill, Kowhey, Tim Hendricks, Brian Everett, Big Capone, Genko, Alex Horikitsune Reinke, Zele, Dong Dong, Pablo Xno, Steve Goodspeed, Rogerio Snappy Gomez, Buddha Yang, Frank Chavez, Julio Villalobos, Doug Hardy, Elle Festin, Eddy Reyes Sr., Tomasi Suluape, K.C. Angel, Jared Leathers, Buzzy Jenkins, Hailin Fu, Michael Aul, Sanya Youalli, El Whyner, Yushi Takei, Henri B, Enrique Castillo and many more.
Delivery
Killer Ink EU Distribution Centre
Orders are shipping from our EU Distribution Centre so there are no additional taxes or duties to pay.
All orders completed before 15:00 on a working day will be dispatched the same day via the delivery service requested.

Delivery costs vary according to the size and weight of your order, starting from just €6.95. We offer free delivery on orders over €50.00 plus VAT!
Warranty