Box of 15 EGO HAWKFLOW Disposable Cheyenne Hawk Grips - BLUE
SKU 15-HFLOW-HAWKGRIP-BLU
In Stock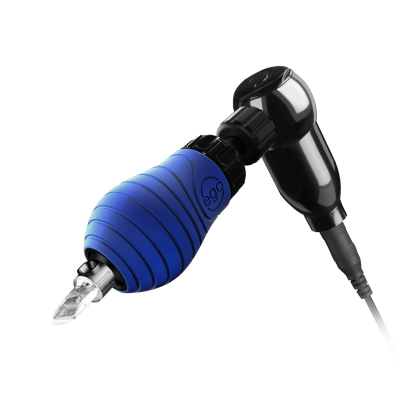 Box of 15 EGO HAWKFLOW grips in blue for use with Cheyenne Hawk machines.
Until now, there has been no disposable tube capabable of connecting up to a Cheyenne Hawk machine while still remaining to be adjustable. Fully adjustable at a few turns of a screw to set your required needle depth, these tubes are a revolutionary development.
The HAWKFLOW shape is made from a very soft silicone like material and is ergonomically designed to sit in the grip of your hand very comfortably. The inner tube is made from a very high quality and very strong ABS plastic material.
Due to the simplicity in the way the Cheyenne Hawk cartridge system works, only one tube is needed per tattoo, as cartridges simply click in and out when you are changing sizes.
Each tube comes in sterile disposable blister packaging, so everything is completely one use only.
Delivery
Killer Ink EU Distribution Centre
Orders are shipping from our EU Distribution Centre so there are no additional taxes or duties to pay.
All orders completed before 15:00 on a working day will be dispatched the same day via the delivery service requested.

Delivery costs vary according to the size and weight of your order, starting from just €6.95. We offer free delivery on orders over €50.00 plus VAT!
Warranty