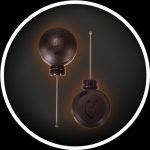 Cheyenne Sol Luna & Sol Terra
March 13, 2019

March 13, 2019

ie

https://www.killerinktattoo.ie/skin/frontend/killer/default/images/logo.svg

https://www.killerinktattoo.ie/
In our latest video review, we give our first impressions of two new machines from Cheyenne, the Sol Luna and Sol Terra.
The Sol Luna and Sol Terra will be joining Cheyenne's Sol range, following on from the acclaimed Sol Nova rotary.
Both the Cheyenne Sol Luna and Sol Terra are high-performance machines that are quieter and vibrate less than conventional machines.
Each of these powerful rotaries is fitted with a brushless DC motor that packs a punch and offers better ink saturation. In addition, the smooth and soft running of the machines allow for a faster healing process.
Both machines have two operating modes, known as HardDrive and SENSIDRIVE. These modes allow you to choose between working at a controlled or regulated speed by altering the motor control.
With the HardDrive function, your machine will run at a controlled speed, with no give and a consistent hard hit.
Turning the SensiSwitch will enable the new SENSIDRIVE function, meaning that the speed of the machine will be adjusted depending on the surface that you're tattooing. This is due to the motor reacting more sensitively to the resistance of the skin.
The main difference between the two machines is the stroke length. The Sol Luna has a 2.5 mm stroke length, whereas the Sol Terra offers a 4 mm stroke length.
Make sure to watch our video below for more information on the similarities and differences between the Cheyenne Sol Terra and Sol Luna.