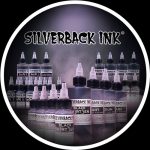 Silverback Ink® - For Killer Black & Grey Work
April 11, 2019

April 11, 2019

ie

https://www.killerinktattoo.ie/skin/frontend/killer/default/images/logo.svg

https://www.killerinktattoo.ie/
Take your black and grey work up another level with the range of tattoo inks from Silverback Ink®.
Silverback Ink® is one of the most popular ink brands around for blackwork and black and grey tattoos, and it has just released its latest (and perhaps greatest) creation yet: Black Th1rt3en.
The Black Th1rt3en and 3 Shade Grey Wash Series inks are perfect for any tattooing styles, from dot work to portraits!
The viscosities and surface tensions of these inks are completely different to what Silverback Ink® has made in the past.
All of these tattoo inks have good body to them, with Black Th1rt3en just a bit thicker than water. They all fully coat the needle when tattooing and are easy to fully saturate and clean any excess off the skin and tubes.
The formulations for the 3 Shade Grey Wash series are based on Silverback Ink®'s best-selling grey washes: 2, 4 and 8.
As with all Silverback Ink®, the Black Th1rt3en and 3 Shade Grey Wash Series inks are vegan-friendly and EU Resolution ResAP(2008)1 compliant.
That's not all we offer from Silverback Ink® however, as we stock various grey washes, black (and white) inks, and a Clear Solution.
Each and every product from Silverback Ink® is of the highest-quality and used by some of the world's best tattoo artists, including Anrijs Straume, Frank Carrilho, Mumia, and many more!
So make sure to check out more of Silverback Ink®'s incredible tattoo inks, from the ever-popular Insta10Shade Grey Wash Series to killer black inks like InstaBlack, Stupid Black, and XXX Black.