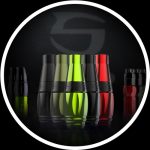 Stigma-Rotary® Tattoo Machines
March 19, 2019

March 19, 2019

ie

https://www.killerinktattoo.ie/skin/frontend/killer/default/images/logo.svg

https://www.killerinktattoo.ie/
Stigma-Rotary® has been revolutionising the tattoo industry ever since its first adjustable rotary machine in 2005. Now it has released its latest, eagerly-anticipated offering, the Thorn.
The Stigma-Rotary® Thorn is a pen-style rotary with the size and shape of a grip. With just 9.3 cm in length and weighing only 115 grams, it literally feels like you're holding just a grip!
Most of its weight is shifted towards the front of the machine, making it perfectly balanced and comfortable to work with.
The Stigma® Thorn is an all-round master with its fixed 3.5 mm stroke and offers a solid hit. We also offer versions of the rotary with 3 and 4 mm stroke lengths.
Stigma-Rotary®'s latest Thorn machine is powered by a high-quality, Swiss-made motor and features a protected RCA connection, so durability and reliability are a given.
The Stigma® Thorn can be used with cartridges from all major brands thanks to the interchangeable cartridge receivers.
Make sure to also check out Stigma®'s other popular pen-style rotaries, the Stylist and Spear, as well as the versatile Hyper V4!
The Stigma-Rotary® Stylist and Spear are both excellent pen-like machines. The main difference between them is that the Spear offers adjustable give, whereas the Stylist has no give. The Stigma® Spear is completely adjustable on the fly.
The Stigma-Rotary® Hyper V4 is a smooth running and versatile hybrid tattoo machine that pushes standard needles and cartridges, while offering adjustable stroke length and give.
Stigma® also offers a range of high-quality grips, along with its Advanced Needle Cartridges, so check out its full range of products and pick something up for yourself!