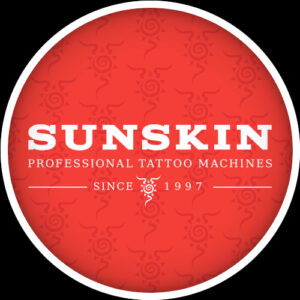 Sunskin Tattoo Machines
Sunskin has been hand-crafting coil and rotary tattoo machines in Italy for over 20 years and has produced some of the best professional tattoo equipment around.
Whether it's the popular Stilo pen, robust Primus rotaries or the classic Small-V coils, Sunskin has tattoo machines for all artists, no matter their style or preference!
Sunskin Stilo
The Sunskin Stilo is a high-quality tattoo pen that can be used for lining, shading and colour packing.
Thanks to its little vibration and silent operation, as well as its low weight of 130 g, the Sunskin Stilo is a very comfortable tattoo machine to work with. The titanium mechanism within, in combination with the 6.3 W German-made motor, gives you plenty of power and a nice and soft, yet accurate, hit.
Following on from the success of the Stilo, Sunskin worked in collaboration with world-class tattoo artists Thomas Carli-Jarlier and Matteo Pasqualin to develop two signature editions of the pen-style rotary.
The Sunskin Stilo Thomas Carli Jarlier Signature Edition has a 3.4 mm stroke for its versatility, allowing it to work brilliantly for colour, black and grey, and opaque grey renders. On the other hand, the Matteo Pasqualin Signature Edition has a shorter 2.5 mm stroke length for its ability to excel in the creation of realistic black and grey tattoos and detailed work with fine round needles.
Sunskin Primus
Under its Primus moniker, Sunskin offers four high-quality rotary tattoo machines: Special Hybrid, One, Solid and Easy. Aside from the Special Hybrid, each version offers both clip cord and RCA connections, therefore offering more choice in terms of what cables you can use.
The Sunskin Primus Special Hybrid has been designed to perform faster and easier lining, colouring and shading, without the need for adjustment, thanks to its particular softness.
The well-balanced and lightweight Sunskin Primus One is perfect for fast and easy execution of lines, shading, and solid colours, and comes fitted with the same German-made 4.5 W motor as found in the Special Hybrid.
Sunskin's Primus Solid is another well-balanced and lightweight rotary from the Italian manufacturer, although this rotary machine is particularly suited to fast and easy colour packing, thanks to a German-made 9 W motor within - the most powerful in the Primus range.
Last but not least is the Sunskin Primus Easy, which is ideal for lining, shading and colour packing. Thanks to Sunskin simplifying the production and finishing of the rotary machine, the Easy was able to enter the company's Primus series at a lower price point.
Sunskin Small-V
The Small-V is the result of a merger between the classic style of Sunskin's historic Round Back Jones and the modern stylings of its Big-V machines.
With such a high demand for the Small-V coil machines over the years, Sunskin has developed a number of variants featuring different technical solutions and settings.
Each and every Sunskin Small-V model would be perfect for artists looking for a new coil tattoo machine that is dedicated to lining. The main differences between the machines comes down to the material of the frame, weight, recommended needles range, and whether they are equipped with 8 or 10 wrap coils.
Make sure to check out the stunning Small-V Evo Pro Brigante Lettering Limited Edition variant, as only 250 examples of this machine were made by Sunskin – so get one while you can!