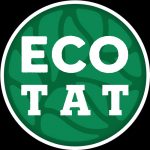 ECOTAT - Plant-Based, Eco-Friendly Products
ECOTAT is a provider of plant-based alternatives to conventional single-use plastic products used during tattooing.
ECOTAT products consist of a range of compostable and biodegradable bioplastics that are made with materials that are naturally-derived, plant-based and sustainable.
The range of ECOTAT products we stock includes barrier grip sleeves, machine covers, clip cord sleeves, surface protection sheets, and more!
Cornstarch PLA (Polylactic Acid) is the primary material used in ECOTAT's products. Compared to conventional plastics, the production of PLA uses 65% less energy and generates 68% fewer greenhouse gases.
When ECOTAT products are incinerated, much fewer greenhouse gases are emitted and they don't emit toxic fumes like their oil-based counterparts.
If you want to try out ECOTAT's plant-based, eco-friendly products for yourself, you can get your hands on a sample pack of sample protection covers. These covers are thinner and lighter than their plastic counterparts, yet just as durable.